Top 10 Men's Clothing Brands in Pakistan
Here are the most admired Top 10 Men's Clothing Brands in Pakistan recognized for trendiest Shirts, Western & Eastern Wear that are offering complete wardrobe solutions for men's Online & In-Stores.
Outfitters
Outfitter's is the most famous choice of brand among youth because their clothes are always according to the trend. You can find maximum clothing designs according to the trend, they have variety of ultimate accessories in which you can find watches; jewelry, shoes and many accessories. Outfitters not only slay among men but women prefer it as well as they have the most stylish collection of western clothing and shoes that are the perfect combination for casual and non-formal attire. 
                
Junaid Jamshed (J.)
Whenever it comes to ethnic clothing brand, Junaid Jamshad is one of the most admired brand by customers. J. started their brand with just men's clothing then after some time they launched women wear which gives them positive attitude by their customers and they got so much positive feedbacks as well. Junaid jamshed has 50 plus outlets in Pakistan. Which make this brand not only famous in Pakistan but outside of Pakistan as well as they have outlets in Australia, Canada, New Zealand and UAE as well.    
CHARCOAL

Charcoal is one of the most admired brands in retailing of men's clothing and accessories in Pakistan. Whenever it comes to western wear charcoal is the finest option to choose as they have the best apparel for men. They play with the most decent colors and designs that can be the shows topper for many individuals. They came into being in 2008 and have 30 plus outlets, which is the remarkable positioning for a brand and that is why they are loved by their customers too. You can get variety in men's wear like formal shirts, T-shirts, three piece suites and so on.
Ideas by Gul Ahmed

Gul Ahmed has shown the true essence of our ethnic culture in every design of their clothes. They are famous for showing the ultimate sophistication in their designs that defines true core value of our culture. In our society men are bound by darker colors, the only color we usually found in men's wear are the darker colors so here is Gul Ahmed that play with colors even in men's wear, as you can find as bright colors as well as light color. Another best part of gul ahmed is that they have both collection casual and formal attire for men in which you can find stitched or unstitched both.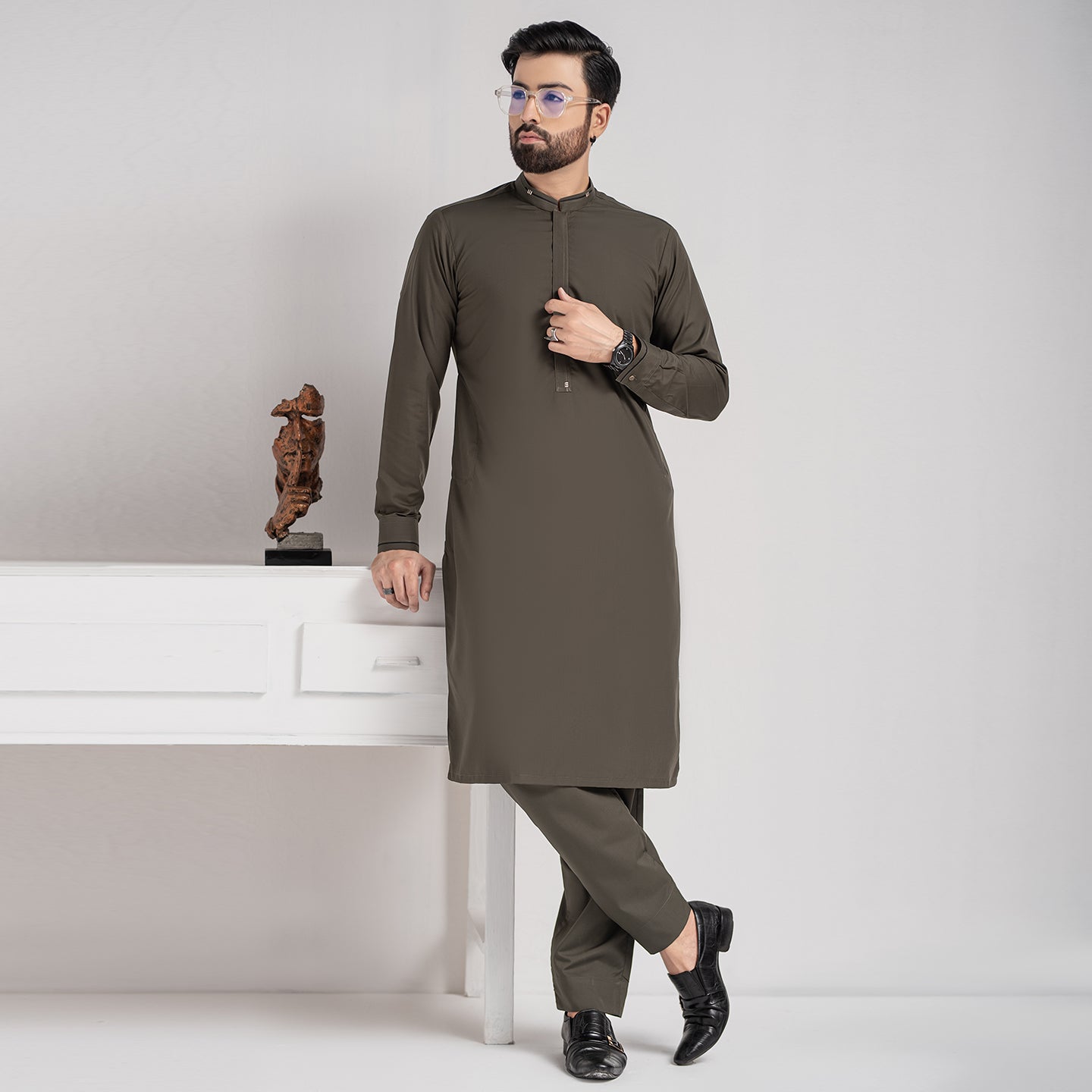 Deepak perwani
Deepak perwani is a well-known designer of Pakistan. Before getting his self in fashion world perwani started his career as an actor but in early stage of acting career he realized that his talent is made for fashion designing. He is the person who has made huge change in trendy clothes just by adding uniqueness in his designs. Perwani is well known for his wedding, bride/groom dresses, this is why his clothes not only famous in Pakistan but outside of Pakistan as well, he has outlets in Lahore, Islamabad, Karachi or people can shop online as well.    
Amir Adnan

Amir adnan is the most versatile designer, through which most of Pakistani men call him out especially when they are getting married because his sherwani is the trade mark for his targeted audience. He is the most recommended designer by audience because of his style yet trendy look, he not only deal in sherwanis but he has variety in 3 piece suite, formal dress shirt and pant as well. Customer's love to shop from him because he take care of their need and try to make sherwanis and suites in more customize way.
Alkaram

Akaram is the favorite brand of Pakistani men and famous among Pakistani industry too. They are not only well known among men but they also targeted the woman of Pakistan as it is the oldest brand so they have wide collection many more line like in kids wear and in home accessories. You can find ready to wear or you can get unstitched so that you can customize your design according. Their outlets are all over Pakistan and for the convenience of other audience they have outlet in Dubai and UAE as well.   
Leisure Club
Leisure club came into being in 1997. Leisure is the most lovable brand among men because of their unique and trendy clothes.  Men love to wear leisure club because they offer premium quality clothes in which you can mostly find casual, daily wear and street smart clothes. Their clothes have high class reputation which is their plus point. 
Ammar Belal
Ammar Belal is famous for making the most unique and stylish design. Their customer always waits for its new article because he adds a touch of class even in casual wear as Ammar knows what his audiences want. If you want to enhance your personality and yet want dashing look than add Ammar Belal's outfit in your wardrobe, once you get them it will become part of your essential.
Royal tag
Royal tag is known for its formal attire which has become their trade mark. Their material is always high quality with long lasting life of cloths and this is their unique point. They have 15 plus outlets all over Pakistan.